2017 Honda Civic Type R
The car that has blessed Japanese and European roads since its inception has finally arrived in the United States of America. The red carpet needn't be rolled out, as this legend among mere automobiles prefers asphalt to red carpets. Enter the 2017 Honda Civic Type R, the first Honda to bear the Type R logo this side of the pond.

In the past, Type R motors were naturally aspirated and high revving. However, that was the past, and times have changed. This hot hatch has specs so high, you may need to ask your service specialist at Stockton Honda for a cold glass of lemonade before you even take a look at the 2017 Honda Civic Type R–extra ice, please! The Type R is offered as a hatchback, with a six-speed manual transmission. Mated to the six-speed is what made Honda famous: an i-VTEC motor. The direct-injected, 2.0-liter, redlines at about 7000 rpm, but reaches peak torque at 2500 rpm. The 306 horsepower and 295 pound-feet of torque will push you back in your race inspired, red seats at every throw of the six-speed short-throw shifter. As this happens, the center-exit triple-exhaust tip system will thunder a rumbly roar, reminding you that life is too short to drive a boring car.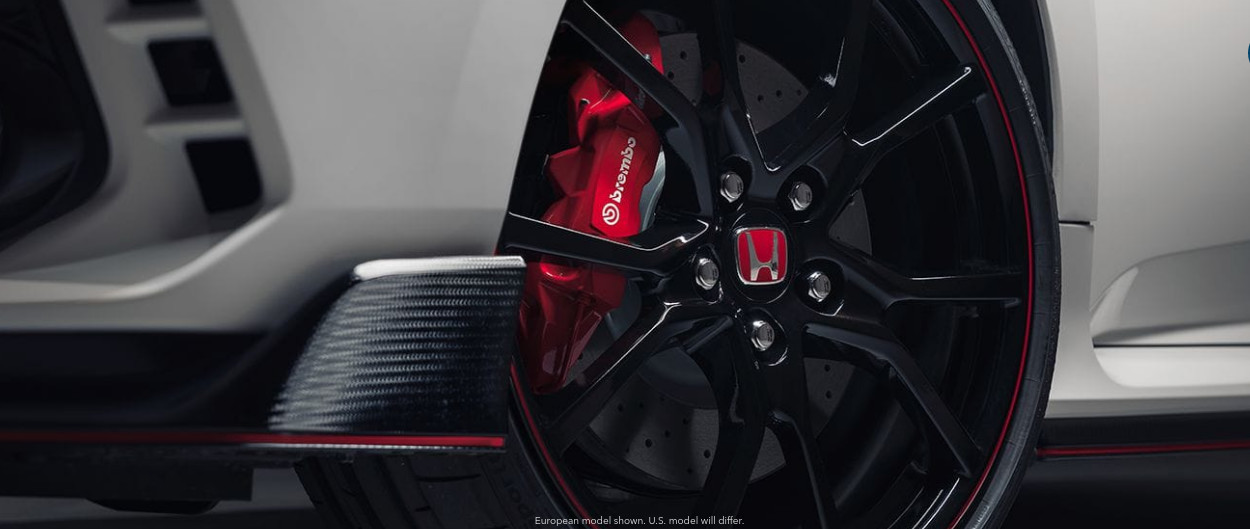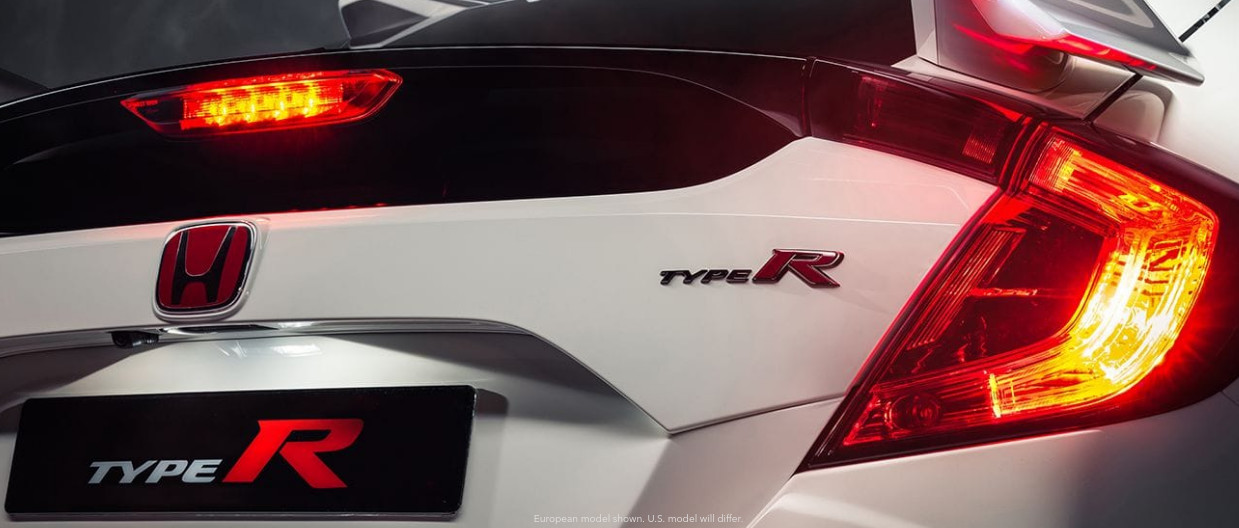 Mission: Control
The 2017 Honda Civic Type R's power specs are fitting of the most elite Honda made to date. However, the power doesn't compromise this vehicle's handling one bit. Honda has taken extra measures to establish intentionality behind every maneuver of this front-wheel drive hatchback. By engineering a dual-axis front-strut system, Honda's genius engineers keep torque steer at bay. Furthermore, the Adaptive Damper System (ADS) and Limited Slip Differential (LSD) keep you stable and tight on the road and in the corners. The grippy rubber on the twenty-inch black alloy wheels provide more contact with the tarmac, and housed within the the alloy wheels are four-piston Brembo brake calipers, and high performance rotors. Although this setup is track ready, brakes like these will stop on a dime, and help prove that Honda's objective for every owner is to be safe every time they are behind the wheel. Disclaimer: due to the brilliant nature of the 2017 Honda Civic Type R, drivers may experience symptoms of wanderlust upon or before their first drive; the sensation will remain.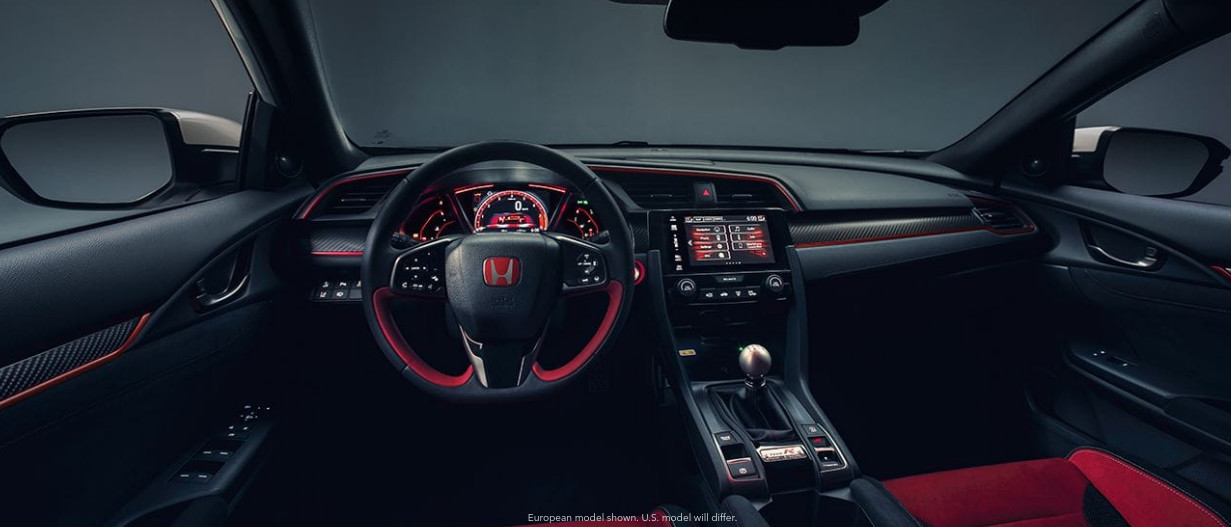 Behind the Wheel
There's more to the 2017 Honda Civic Type R than 0-60 times and big brakes. First of all, the functional aesthetics of the exterior will leave competitors astonished that good looks could come at such a great price. Yes, there's a big rear spoiler, an aero-friendly vortex generator, a lightweight aluminum hood, a track-ready body kit, a heat dissipating hood vent, and cooling brake ducts. But underneath the carefully sculpted shell, there are some great amenities and advantages.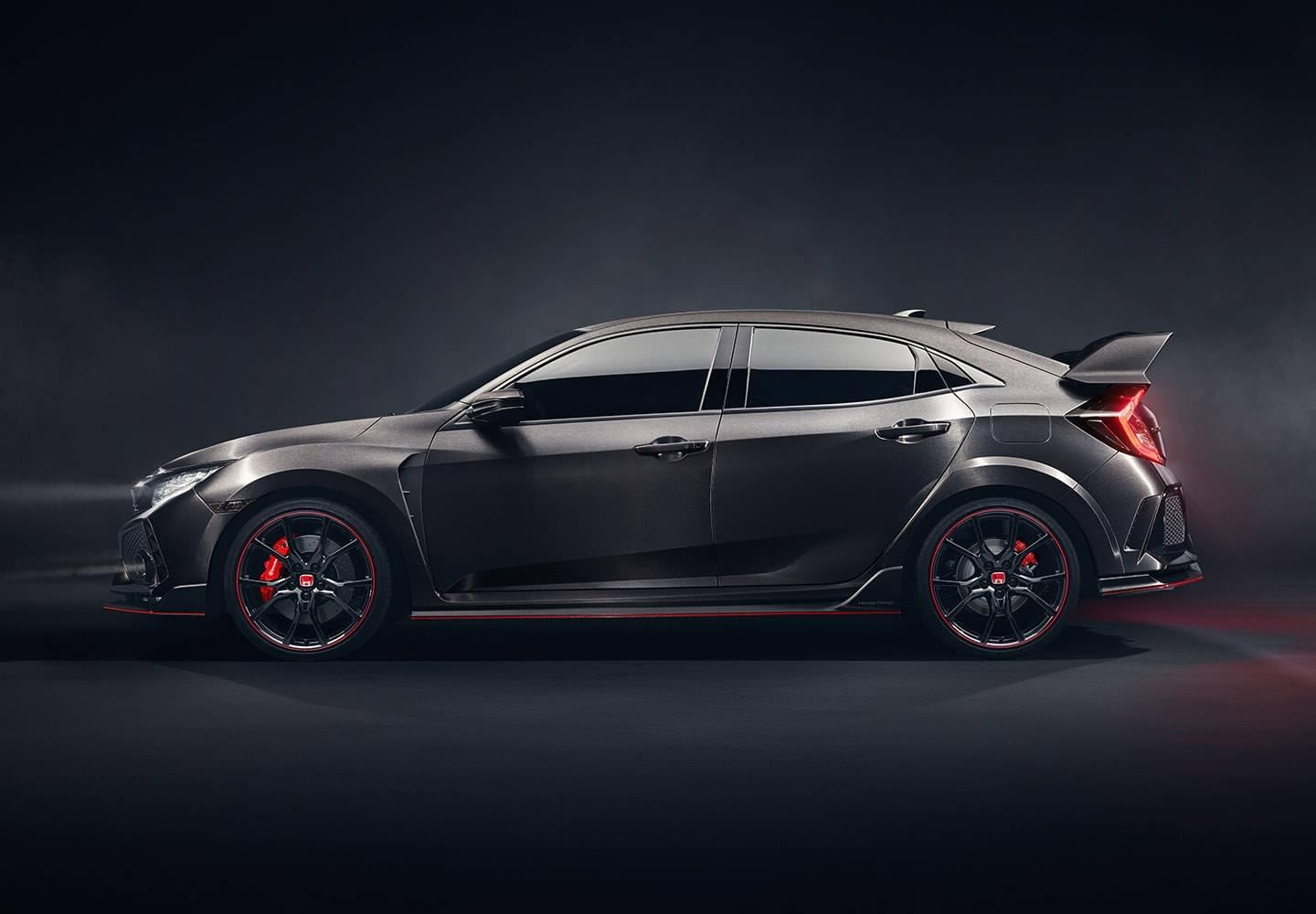 Red accents adorn the interior, and wrapping your hands around the thick steering wheel helps ensure security and connection to the Type R. The customizable digital meter display will help you monitor the Type R's vitals, as well as log track times if you so choose. The infotainment system comes fully equipped with navigation, Apple Car Play, Android Auto, and a booming, knock-your-socks-off twelve-speaker system. The aforementioned allows the infotainment system to control your smart device's music, messages, maps, and so much more. This further enhances and personalizes every Honda Civic Type R driver's experience. The same safety standards that decorate other Civic models are inherent in the 2017 Honda Civic Type R.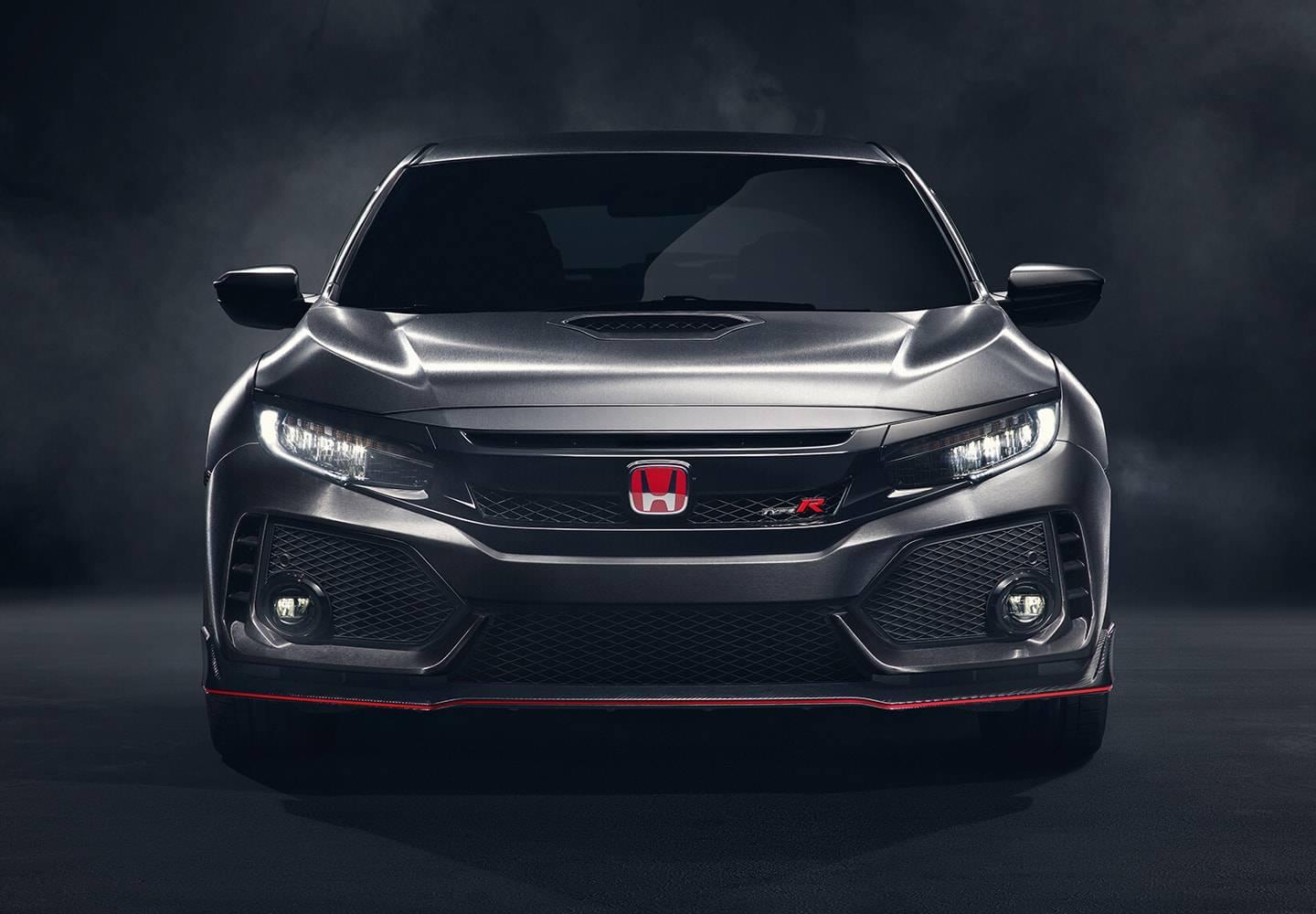 While all that may be enough, don't forget that this is a hatchback. Hatchback equals space. This vehicle comfortably seats all your passengers, and even has room for groceries and other gear. If you have more than an average amount of supplies to stow in the 2017 Honda Civic Type R, the hatchback will allow you to fill the rear area up to the top, and without passengers, the back seats fold down, providing even more room. Good things really do come in small packages.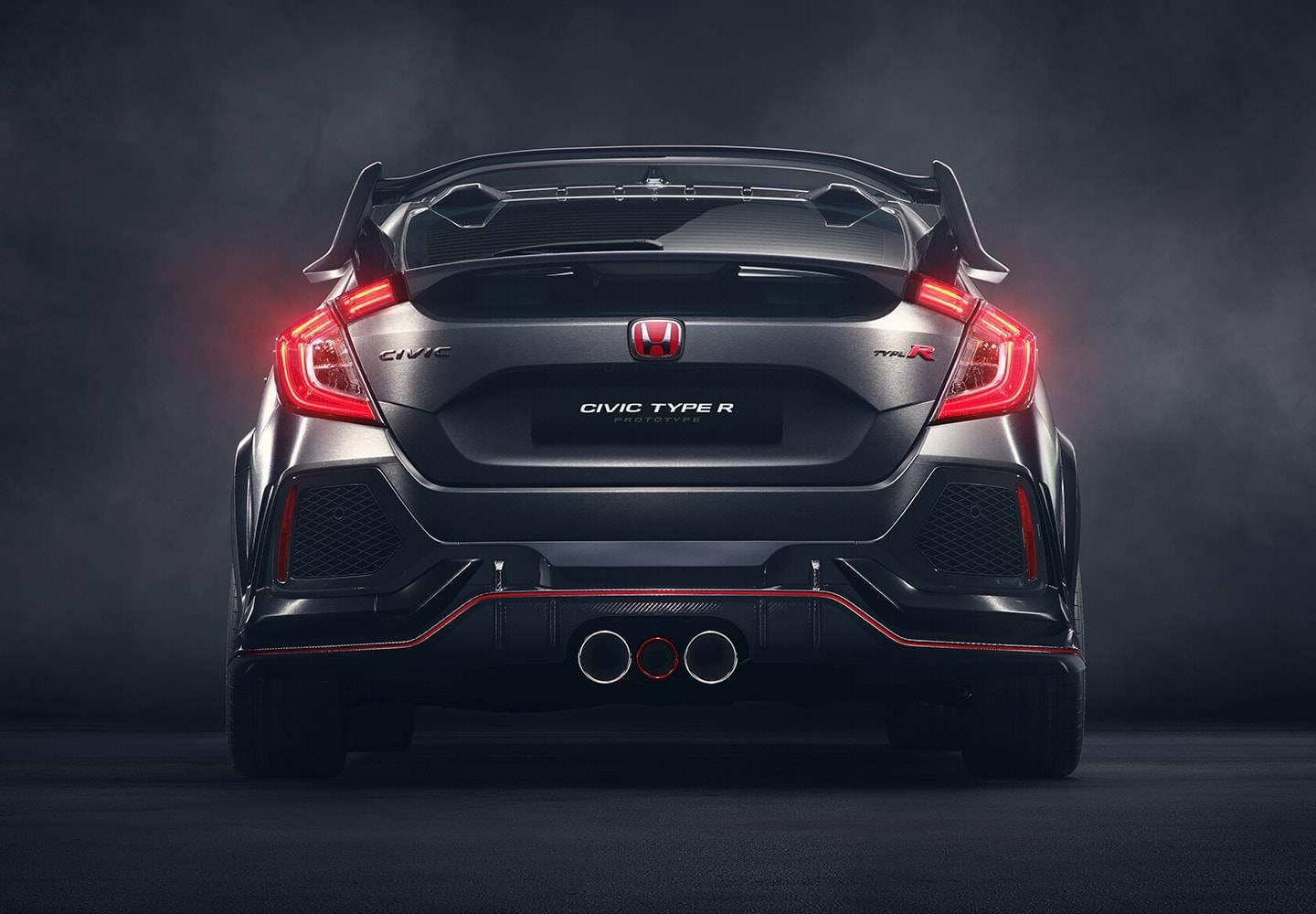 Dawn of a New Day
Honda enthusiasts, dreamers, and automobile connoisseurs have been waiting for this day for years, but this car isn't just for them. This car is for any and every driver, after all, the 2017 Honda Civic Type R is a Honda. Of course this the top tier that Honda offers, but impressive mpg is attainable, and immense practicality can be utilized. As a true testament to the appeal of all drivers, three different driving modes (Comfort, Sport, and +R) can be accessed by the driver, making the car drive exactly how you want.

It's 2017, and whether you've been a Type R enthusiast for years, or you're ready to drive a bold vehicle and enjoy every driving experience, or you're looking for great features at a great price, the 2017 Honda Civic Type R is the right car for you. Keating Honda won't make you wait more than necessary to see and experience the car in person. After all, how often is it that an opportunity to have a living legend in your driveway comes along? Answer: not very.