2018 Honda Civic VS 2018 Toyota Corolla
| | 2018 Honda Civic | 2018 Toyota Corolla |
| --- | --- | --- |
| Engine (base) | 2.0L 4-cylinder | 1.8L 4-cylinder CVT |
| Hosepower (base) | 158 | 132 |
| EPA-estimated MPG | 28 city 40 highway | 28 city 36 highway |
| Cargo Volume (cu. ft.) | 15.1 | 13 |
| Passenger volume (cu. ft.) | 97.8 | 97.5 |
| Price (base) | $18,940 | $18,600 |
Comparison Overview
The Honda Civic and the Toyota Corolla are among the best selling sedans on the market today. With more great features than ever, it's easy to see why America loves these cars. But which sedan is right for you? Today we'll be taking a quick look at some of the highlights of the Civic and the Corolla. Let's start by comparing their engines. The Civic includes a larger 2.0L 4-cylinder engine that gets 158 horsepower. Toyota's 1.8L base engine has significantly less power, coming in with only 132 horsepower. Civic also has better EPA-estimated fuel economy, delivering 28 MPG city and 40 MPG highway. Honda always expertly marries efficiency and performance. Take a look at some of these sedans' other exciting aspects.
Comparison Interior
Let's hop aboard and take a peek inside the 2018 Civic and the 2018 Corolla. In a direct comparison, Civic has larger standard passenger volume and more cargo space. Civic has 15.1 cubic ft. of cargo room compared to only 13 cubic ft. for the Corolla. In the driver's seat, both vehicles have steering wheel mounted controls and cruise control capability. Also, Civic and Corolla both have standard automatic climate control. However Civic's comparatively larger interior takes the prize in this category.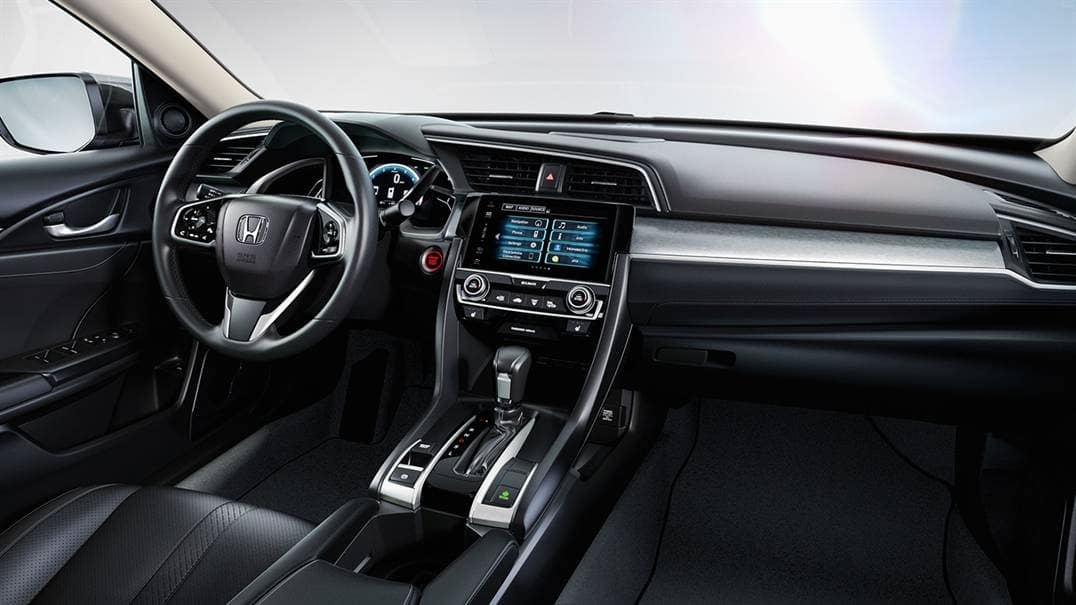 Comparison Exterior
Both of these sport-inspired vehicles have striking looks and a modern design sensibility, but which is right for you? One aspect that might help you decide is the NHTSA crash test safety ratings. In the Overall Frontal Crash Safety, Rollover Safety, and Front Passenger Crash Test categories, the Civic scored higher than the Corolla. In fact, the 2018 Civic has a number of premium driver assistance features included standard, like Hill Start Assist and a multi-angle rear view camera.
2018 Civic Packages
The 2018 Civic is available in a host of different trims, including the LX, EX, EX-T, EX-L, and Touring versions. The Civic EX model adds a number of premium options for a very affordable price. Your passengers will adore the EX's one-touch power moonroof, Apple CarPlay and Android Auto integration, and remote engine start capability. The standard Civic has a 6-speed manual transmission, so don't forget to add an in CVT automatic transmission if that suits your driving style.
Keating Honda
There has never been a better time to visit Keating Honda. We are conveniently located in Conroe, Texas and are always ready to help people from Houston, The Woodlands, Victoria, College Station, and Kingwood. Save a date on your calendar and make an appointment to take a test drive of the 2018 Civic. At Keating Honda, flexible financing is one of our top priorities. We have plenty of experience helping people from most any background find a customized payment plan that works. Your new 2018 Civic is for sale now at Keating Honda with a low starting price of only $18,940.
We appreciate your interest in our inventory, and apologize we do not have model details displaying on the website at this time. Please fill the form out below and our team will quickly respond, or, please call us at 936-242-4140 for more information.
Vehicle Finder Service